This casino is either now closed or we are no longer recommending them to our website visitors. However, the casino listed below offers the same great games and even better bonuses, so we encourage you to give them a try instead!

You are more than welcome to continue reading the casino review below, but please remember that we are directing all links on this page to the casino above.
Dash Casino Review
Dash Casino Information.

We are not quite sure why this casino is called Dash Casino, but as always there will be some logical thinking behind it, but it escapes us! Anyway the casino is well run and the group behind it also operates a couple of good quality online casinos that all provide players with a top notch gaming experience.

Dash Casino Software.

Dash Casino has a very good suite of games with all the usual bells and whistles you can expect from a Microgaming skin, card and table games, video poker and every imaginable slot. However no USA players are allowed to play, they did allow Global players but pulled the plug on them recently.

Dash Casino Support.

The very best customer support is available at Dash Casino, all staff are highly trained and don't spew out the auto responses that can often irritate and annoy the online player. It makes a pleasant change, for players to get the sort of treatment which they deserve.

(Payout Report and Casino Comps Info below)

Dash Casino
Dash Casino Payout Percentages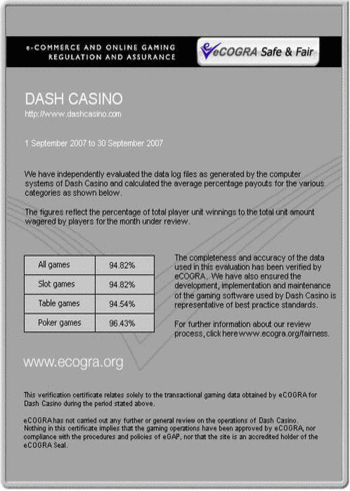 Dash Casino Comps
At Dash Casino, you'll receive the VIP treatment right from the start with Dash Cash Rewards. From the moment you open a real money account and hit the tables, you'll be rewarded for your play and start accumulating Dash Cash for every game

Your Dash Cash can be converted into casino chips at any time and the more you play the more you'll receive. In addition, if you are lucky enough to be a member of the exclusive Silver Service you'll receive even more Dash Cash for your game play

Sic Bo, Keno & All Slots excluding progressives 1 for every 10 chip bet (1 for every 5 chip bet for Silver Service members)

All other games 1 for every 50 chip bet (1 for every 10 chip bet for Silver Service members) and Progressives are included for Silver Service

Dash Cash will only be awarded for play on Progressives for members of Silver Service. All Dash Cash will be converted and placed in your Cash Balance. All unconverted Dash Cash expire after 6 months.

Dash Cash must be converted in units of 1000 and 1000 Dash Cash Rewards equals 10 free casino chips.